George Zweck, a Prussian immigrant, began to build a hotel in downtown Longmont in 1880. The Zweck Hotel located at 301 Main Street was palatial and when it opened in 1881, offered fancy amenities for the time. Longmont did not have a dedicated water supply in 1881, so Zweck had the building's architect design three, large brick cisterns that were filled manually by bringing water up from the nearby St. Vrain River. The hotel's heating was provided by coal-fired stoves, and furnishings were some of the finest European imports.
Zweck had come to the U.S. as a young man and moved to the Colorado Territory during the Gold Rush of 1859. He settled a farm west of Longmont and began mining gold in the prosperous Left Hand Creek. Along with the hotel, he had other local business interests including: hospitality, cattle ranching and farming. Unfortunately, his luck in these endeavors ran out. The Zweck Hotel never recouped its building costs, he lost $90,000 worth of cattle in a blizzard and the gold mining became sparse. His wife, Mary, struggled to keep the family's homestead viable by selling goods and produce which helped the family survive. The Zweck Hotel was reluctantly sold in 1894 to Mr. and Mrs. Charles F. Allen.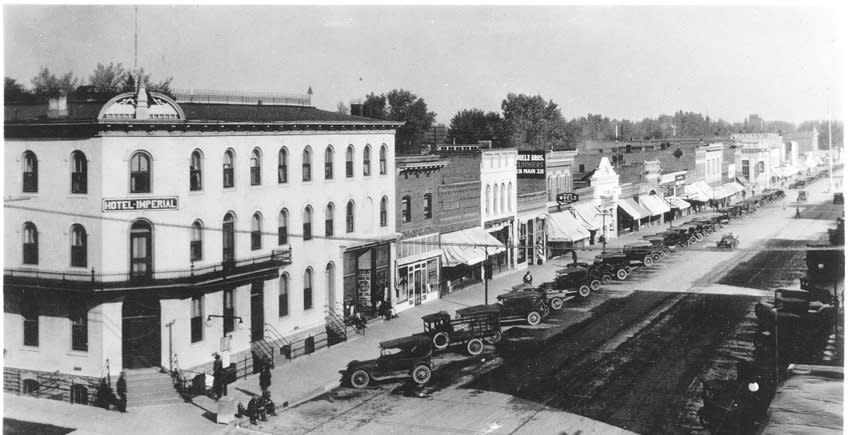 The Allens immediately changed the name of the hotel to the Imperial Hotel. Their family finally made the hotel a profitable investment, and they managed the property for the next 50 years. The Imperial changed hands a few more times, and finally shuttered its doors as a lodging property in 1971. Today, the building serves mainly as residential apartments, but on the main floor a Chinese restaurant and Javastop Coffee are open and The Speakeasy, a bar and lounge occupy the basement level.