Born in 1836, Morse Coffin grew up on an Illinois farm. He became an accomplished farmer, running his father's homestead by the age of 21. However, wanderlust set in for the young Coffin. So, on May 5, 1859 he set out with two of his friends and headed west. On July 18, the trio arrived in Boulder, Colorado where Morse settled in and became a sawyer, working on timber. He also dabbled in prospecting, but he eventually went back to his farming roots. With money earned from his hard work, he purchased a 160-acre homestead about 3.5 miles east of the intersection of Longmont's present-day highways 287 and 119.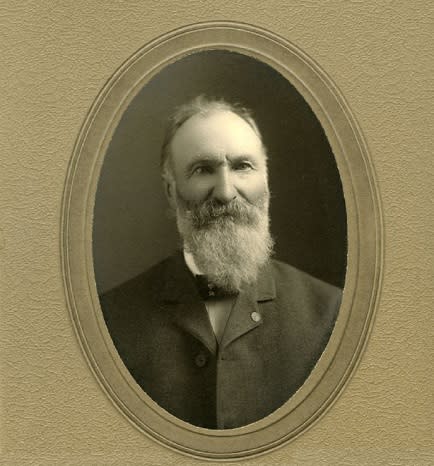 Morse began to work the farm, which he would eventually add 200 more acres to, and his brothers Reuben and George Coffin relocated to work on the farm as well. In 1860, the Sandstone Ranch house was built along the banks of the St. Vrain River. The house gets its name from the surrounding sandstone bluffs that act as a natural barrier from Colorado's strong winds. That very sandstone was quarried onsite to build the home. Today, the home is on the National Register of Historic Places and designated a Longmont Historic Landmark.
The farm had flourished by 1865, so Morse returned to Illinois to marry Julia Dunbar. The two returned to the farm in 1866 and raised five children. Later, Julia's sister, Etta Dunbar Kelso came to live with them. Morse passed away in 1913, and Julia died in 1926. They reside in Mountain View Cemetery, 62 11th Ave, in Longmont along with one of their sons. Sandstone Ranch remained in the Coffin family until 1981 when it was purchased by the Bigelow family. The Bigelows renovated the home and sold it to the City of Longmont in the 1990s.