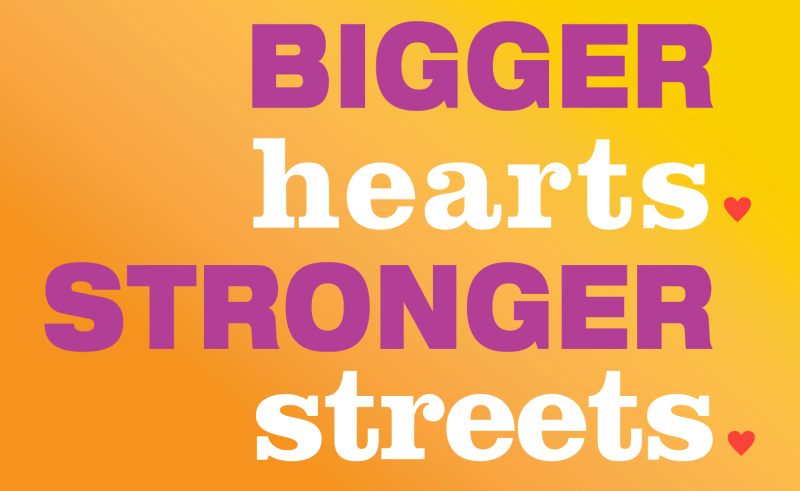 Bigger Hearts. Stronger Streets. 
The Longmont Downtown Development Authority & City of Longmont have obtained a permit from the Colorado Department of Transportation for a one lane reduction in traffic and parking closure on Main St. to allow for additional space for business, seating, walking, biking, etc. between July - September, 2020. 
The purpose of this lane closure is to expand outdoor space for dining, shopping, walking, social distancing, art, and more! There will be 18+ murals and works of art installed on the barriers by local artists, as well as the remainder of the barriers being painted in rainbow colors. There will be Tivoli lighting throughout the lane closure, as well as many tables and umbrellas to enjoy. 
ArtWalk Longmont is also planning to host a wide variety of art events during the street closure with their Summer on the Streets Event.  ArtWalk is a cultural event series in Longmont for arts lovers and future arts lovers. They connect arts, business, nonprofit, and education to celebrate local creativity. As the host organization of ArtWalk, the Firehouse Art Center is proud to be an active member of Downtown Longmont's Creative District. 
ArtWalk Summer on the Streets:
July 11 – Making of the Longmont Selfie Longmonster- watch local artists make a paper mache Longmontster sculpture. Participate in painting one socially distanced section!
July 18 – PM Art Market- Come shop in an outdoor market, meet with artists creating, sharing and selling their works. Art of all forms will be represented. (social distancing and masks required)
July 25 – AM Kids Activities (art kits – no shared materials). Come pick up an art kit for some summer creating! Socially distanced tables available or take home to complete and then return to display in Downtown Business windows galleries! Limited availability.
August 1st – Performers Weekend- Come enjoy some outdoor music throughout Downtown Longmont!
August 8 – PM Art Market
August 15 – AM Kids Activities (art kits- no shared materials)
August 22 – PM Performers Weekend
August 29 – Muralists and Live Painting with music. Come enjoy music and live art making through Downtown Longmont!
September 5 – Chalk Artists
September 12 – PM Art Market and Film Shorts
 
Where is the Street Closure?
 
East side: Main Street, north of 2nd Avenue to 6th Avenue
West side: Main Street from 4th Avenue to 6th Avenue
Where Can I Park?
 
There is still plenty of free parking available throughout downtown. With most businesses only being able to operate at 50% capacity,  these changes have allowed more parking within our parking system.
Downtown Visitors will have plenty of chances to find parking in off street lots or on the avenues. Read more about parking during the closure, or check out the downtown parking map and information.
View the full Press Release.