Exhibitions: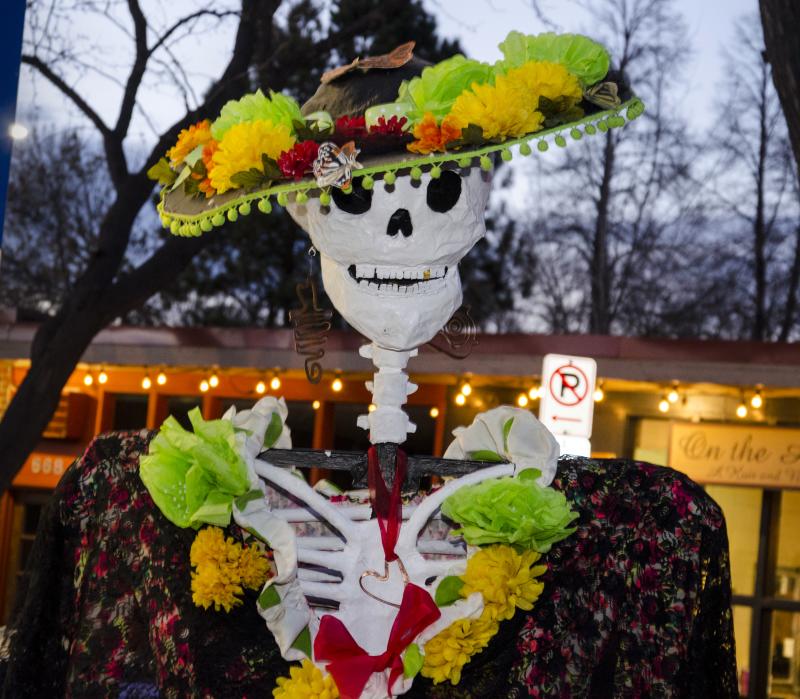 LONGMONT MUSEUM & CULTURAL CENTER
Dates: October 2–January 9, 2021
Hours: Tuesday–Saturday, 9 am–3 pm
Admission: $8 adults, $5 students/seniors, ages 3 and under free, Museum members free
This year marks the 20th anniversary of Longmont Museum's annual Día de Muertos (Day of the Dead) exhibition and programs, and a global pandemic won't stop us. The Día de Muertos exhibition returns to the Museum's temporary exhibition gallery this fall featuring ofrendas (altars) built by community members and the work of internationally recognized Colorado artist, Tony Ortega. Ortega's lifelong goal is to contribute to a better understanding of cultural diversity by addressing the culture, history and experiences of Chicanos/Latinos through his art. The gallery exhibition includes his book illustrations and a family ofrenda. Visit downtown Longmont to see a new mural by Tony commissioned to commemorate our 20th anniversary! Visit in person or view the exhibition in a 360 gallery on our website.
FIREHOUSE ART CENTER
Dates: October 8–November 8
Hours: Wednesday–Sunday 12–5pm by appointment, drop in welcome on Saturdays, 12pm–5pm
Admission: Free
Given these uncertain times, the Firehouse wanted to create an exhibit to serve as an opportunity for those who desire to learn about, re-acquaint themselves, and/or profoundly engage with one of the most devotional celebrations for the continuous cycle of life.  Dia de los Muertos 2020, curated by Grace Gutierrez, will showcase the work of Adrian Raya, Cal Duran, Javier Flores and Ramon Trujillo.  At the heart of this exhibit are their meticulously crafted altars. Their ofrendas address local events of historical significance, chronicling the relationship between faith, family, history and culture, while promoting reflection on how history can guide us through this trying year.
Programs:
MURAL DE COMMUNICAD/COMMUNITY MURAL
September 18–26, click here to sign up for a session.
You're invited to paint with Tony Ortega commemorating Longmont's 20th year celebrating Día de los Muertos. Each spot is for one individual to paint with the artist in a physically distant, safe environment. Individual supplies will be provided and face coverings are required by all parties as per local ordinances. Space is limited and this opportunity is free and available for all Longmont community residents!
LONGMONT MUSEUM VIRTUAL OPENING RECEPTION
Thursday, October 1, 7:30–9 pm, free, livestream 
Join us to celebrate the 20th anniversary of the best Día de los Muertos exhibition in the state of Colorado! Enjoy live performance, an artist talk with Tony Ortega, and conversations with altar builders from the exhibition.  
FIREHOUSE ART CENTER EXHIBIT OPENING
Friday, October 9, 6–10 pm
Join the Firehouse Art Center, Grupo Azteca Tlahuitzcalli, and the gigantes as we unveil a new exhibit to honor the Día de los Muertos. The celebration begins with a Day of the Dead Invocation at Roosevelt Park led by Grupo Azteca Tlahuitzcalli. Then at 6:30, gigantes, traditional giant puppets made by local artists, will depart from Roosevelt Park with the Aztec Dancers at the lead. Revelers with tickets will dance with the gigantes from the park, through downtown Longmont, and end at the steps of the Firehouse, where we invite you to meet our artists and bid on our Catrina Painting Auction. These Catrina Paintings were created by local community artists and will support the Firehouse Art Centers programs, exhibits and events!  
6:00–6:20 pm: Invocation featuring Grupo Azteca Tlahuitzcalli at Roosevelt Park
6:30–7:00 pm: Gigantes Procession
7:00–10 pm: As the Aztec dancers perform in the parking lot south of the Firehouse, guests will be allowed into the gallery as capacity permits. Feel free to stay and watch the dancers or visit Downtown Longmont's Dia de los Muertos Ofrendas/Altars.
Please visit the Opening Invocation event site for more information on ticketing. Tickets and masks are mandatory due to pandemic regulations. Final event details will be sent to all ticketed individuals.
SELF-GUIDED DOWNTOWN BUSINESS ALTAR TOURS
As part of Longmont's 2020 Día de los Muertos celebration, Downtown Longmont businesses will once again host ofrendas (altar displays) to honor the tradition of the holiday and commemorate those who have passed on. On 2nd Friday, October 9, Downtown Longmont businesses will unveil their ofrenda displays, and maps for self-guided tours of all business altar locations will be available at downtown businesses, as well as at the Longmont Downtown Development Authority office at 320 Main St. Ofrendas will be on display through Monday, November 2. 
VIRTUAL LOCAL TALENT SHOWCASE
Sunday, October 4, 2:30–4 pm, free, livestream
Enjoy cultural performances of music and dance by some of Longmont's most talented local groups livestreamed from the Stewart Auditorium. 
DÍA DE LOS MUERTOS ROCK ART: SUGAR SKULLS, MARIGOLDS, AND MONARCHS
Thursday, October 29, 7:30 pm
$30 registration fee, $8 optional supply kit
Activity number 494000.23, register on the Museum website or call the front desk (303) 651-8734
Paint colorful rocks while you learn about the history and significance of the calavera (skull), cempasuchil (marigold), and monarca (monarch butterfly ) in Day of the Dead celebrations. Place your finished rocks on your family altar to honor your departed loved ones and to welcome them back on November 1st and 2nd.  
VIRTUAL DAY OF THE DEAD CELEBRATION
Sunday, November 1, 2:30–4pm
free, live-streamed to Facebook, LongmontPublicMedia.org, and Local Comcast Channel 8/880
We won't be able to gather together for our usual downtown festival due to COVID-19, but you can celebrate Day of the Dead from home with all of the performances you love live-streamed right to your computer, tablet, or phone. Performers include Las Dahlias singing Mexican trio, Grupo Folklorico Mexico Lindo dance, mariachi, poetry by bicultural community leader Laura Soto, and much more!
To help you get your Día de Muertos celebration started at home, the Longmont Museum is offering free custom supply kits for curbside pickup. Keep your eyes peeled for signup information, kit details, and our pickup party day in early October.
CATRINA PAINTING DAYS AT THE FIREHOUSE ART CENTER
Sept 9 and 10, 6–8pm | Sept 19, 4–6pm
Come create a Catrina painting for our Dia de los Muertos  exhibit opening at the Firehouse Art Center! The name, Lady Catrina, refers to the Calavera Catrina – a 1910–1913 zinc etching by the Mexican printmaker, cartoon illustrator, and lithographer José Guadalupe Posada. She is offered as a satirical portrait of those Mexican natives who, Posada felt, were aspiring to adopt European aristocratic traditions in the pre-revolution era. La Catrina has become an icon of the Mexican Día de los Muertos, or Day of the Dead.
All ages are invited to join us in celebrating Dia de Los Muertos with community painting of Catrina's for our South Gallery Exhibition and Dia de los Muertos Exhibit opening!  Painting will occur indoors and outdoors to increase the capacity and we will be limiting attendance to keep with social distancing practices.
We will be auctioning off the Catrina paintings at the opening reception. We hope that you will join us to create these works of art that support and sustain the Firehouse Art Center, while educating the community on this wonderful cultural event!  
All materials for this activity are provided, but a $5–10 donation would be much appreciated!
https://facebook.com/events/s/catrina-painting-days/629089691068689/?ti=icl
Weekly Website Content:
Longmontdayofthedead.com
Longmontdiadelosmuertos.com 
Our authentic and thoughtful weekly web content will prepare you and your family to create your own Día de Muertos celebration at home. Every week in October, visit this website for newly released thematic content highlighting the origins and traditions that make Day of the Dead a meaningful holiday.
 
September 29: History of Día de Muertos
October 6: Ofrendas y Altares (offerings and altars)
October 13: Music, Arts, & Crafts
October 20: Día de Muertos Regional Specialties
October 27: Food and Drinks—Cooking with Family